The day we've been waiting for.
Norma Now & YesJulz! are bringing #BestDayEverMiami back for its third installment! July 27th we hit the Mondrian Hotel again with even more pop ups, more DJ's & a few special guests ;) !Come early, entrance not garunteed after we reach capacity. 
Music By:
Venus X (GHE20G0TH1K)
DJ Miguel Millionies
DAII LO
Pop-Ups By: 
American Apparel (americanapparel.com)
UNKNWN (unkwnmiami.com)
So Akiba  (thatssoakiba.com)
Femme Realm  (femmerealm.com)
Welcome Drinks Provided By:
Ciroc 
Beach Balls and Water Guns. Were you at the last #BESTDAYEVERMIAMI? We were. (Cc: @YesJulz @Norma_Now http://t.co/ZolNltRjoX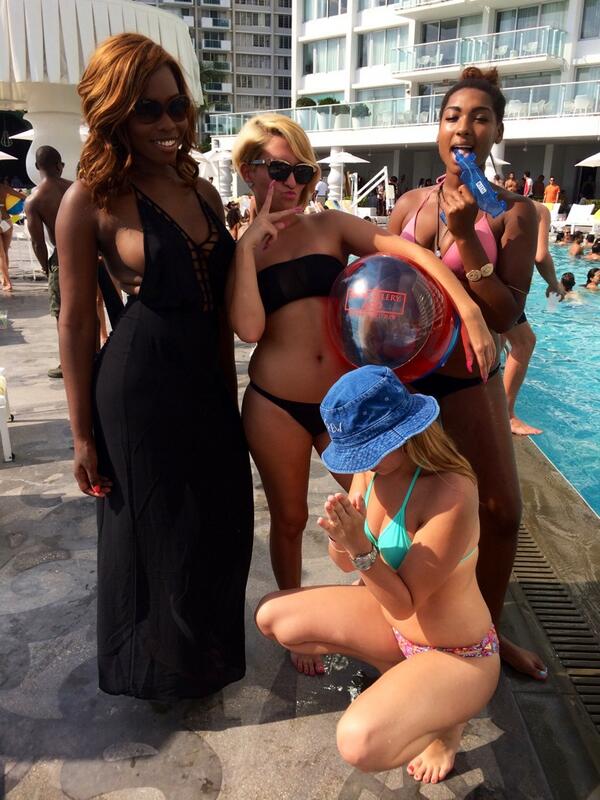 "Our pop up shops for this edition of #BestDayEverMiami are very next level."
Bout to curl up with a good book. Brb.
#BestDayEverMiami @yesjulz 😛
🌴☀️ @DjSpeakerFoxxx ☀️🌴 🔊💯#KILLINIT!💯🔊 ✨🌴#BestDayEverMiami🌴✨ 🌴☀️#MIAMI☀️🌴
HOT GALS ✨ #BestDayEverMiami @ajalikeasia @djspeakerfoxxx @9livesofkat
#miamimami @smlora #bestdayevermiami ✨💕
💯❤️ @ahhlexaa #bestdayevermiami
#BestDayEverMiami ✨
#BestDayEverMiami ✨
Sunday Funday🌀
#bestdayevermiami ☀️
Big pimpin in the house now. @aaronfingj @yesjulz #bestdayevermiami
It was the #bestdayeverMiami @ramajoon
📷: @nick.ramirez0 🌞: #BestDayEverMiami
#bestdayevermiami 🌸
#bestdayevermiami
#BestDayEverMiami
#bestdayevermiami
L I V I N G // #bestdayevermiami #mymondriansummer
I'm so turnt
Always strapped! 🔫☀️💧#kith #bestdayevermiami
#newpost #BestDayEver recap up at wordintown.com Photo via @live_vivacious #w #wit #wordintown #bestdayevermiami #julz #norma #events #hotels #morenewfriends #blog #blogpost
We shot a lot of people that day- I got a dope tan though 🔫💦✨ #bestdayevermiami
I just died 😂😂😂😒 #icantbreath 😩😩 #mysidehurts #whendrunkselfiesgowrong #ilooklikeadudeforreal #checkmystachetho #bestieboo #bestdayevermiami @nat_marie_27
Blowin bubbles n makin paper #bestdayevermiami @worldredeye
This past Sunday at #bestdayevermiami for @jarh birthday.
Hanging with Chef de cuisine @victoriouspreme1 (Victor Rivera) | The Mondrian Sobe #BESTDAYEVERMIAMI S/o to @worldredeye for the press pic
#bestdayevermiami
by @gwag_becampin "Livin the life... #Miami #BestDayEverMiami #SBeachLivin" #305°InTheSunshine
I'm not tired of these pictures yet so too bad ✨✌️@WorldRedEye 💖 next #BestDayEverMiami being announced soon ...
Selfie of the year or nah? #BestDayEverMiami #repost from my boo thang @mslilanikole 💜
Miami!! The third installment of #BestDayEverMiami is officially going down JULY 27th! This time we have a bigger line up & better give aways with the same good vibes ✌️🙏 We are open for suggestions & requests!!! This party is for YOU and we want to hear what you have to say! We have 3 slots available for summer oriented pop up shops Contact me at werk@yesjulz.com or my awesome partner @norma_now at me@normanow.com if you would like to collab or just tell us you love us 😏👅🌊🏊🌴 #YesJulz #NormaNow #BestTeamEver #EvenThoughIPostedTheWrongDateTwice #DontPromoteAndDriveandDrakeAtSameTime #OnTheRiseTour #IDoItForTheYayo #MYami #GirlsHotDogs&HipHop #WeWin #Sorrayyyyy
Best Day Ever July Edition